Galena Clay Works....

creating artifacts for the future!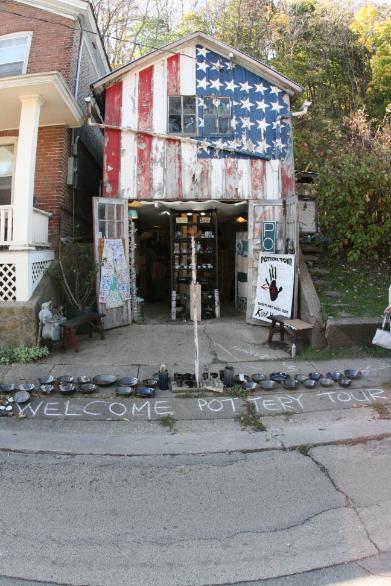 Introduction
I create handmade functional wares and sculptural forms in my hillside studio located in Northwest Illinois. If you're just passing through or if Galena is your destination please stop and visit.
My Work
Whether you are looking for a stoneware bowl or a set of mugs or dishes, come check out my studio!
My functional ware is all high-fired and food, dishwasher and microwave-safe. I also have decorative and whimsical sculptures and Raku vessels and vases.
All of my glazes are earth's raw materials, hand-made and applied to each individual piece of pottery which is then fired to 2380 degrees Fahrenheit. This high fire process creates unique colors and continuity, making each piece one of a kind.
To find my studio drive through Galena's downtown on Main Street. Main Street will turn into Broadway and then into Dewey Avenue. I am located three blocks north at 704 Dewey Avenue in the historic "Old Town" district. Currently the north end of Main Street is closed to traffic, follow the detour around, to continue north to my studio.
I am open daily from 9 a.m. until 9 p.m. mid March through late November or by appointment. During these uncertain times of COVID19, my shop is open every day on the honesty policy. There are bags for self-service and a secure payment box. If I am there I will don my mask and assist you if needed. If you have any questions or would like to place a special order please contact me.
From my hands to your homes, all my clayworks are yours to be used and enjoyed! A few samples of my wares and glazes are pictured below.
Kent Henderson, potter.
Approach
Having majored in Humanities and Anthropology I am interested in clay objects as art as well as artifacts and the temporal becoming the antiquated. Galena Clay Works is creating artifacts for the future, some to be used, some to be buried, all existing for future generations. Wherever I am going,clay is helping me get there.
Testimonials
"I use Kent's serving bowls for all my pasta dishes, I just love them! " Mary Hillinger
"I buy a different small sculpture head whenever I am in Galena to add to my collection" John Martinson
704 Dewey Ave, Galena, Illinois | 815 978 7765